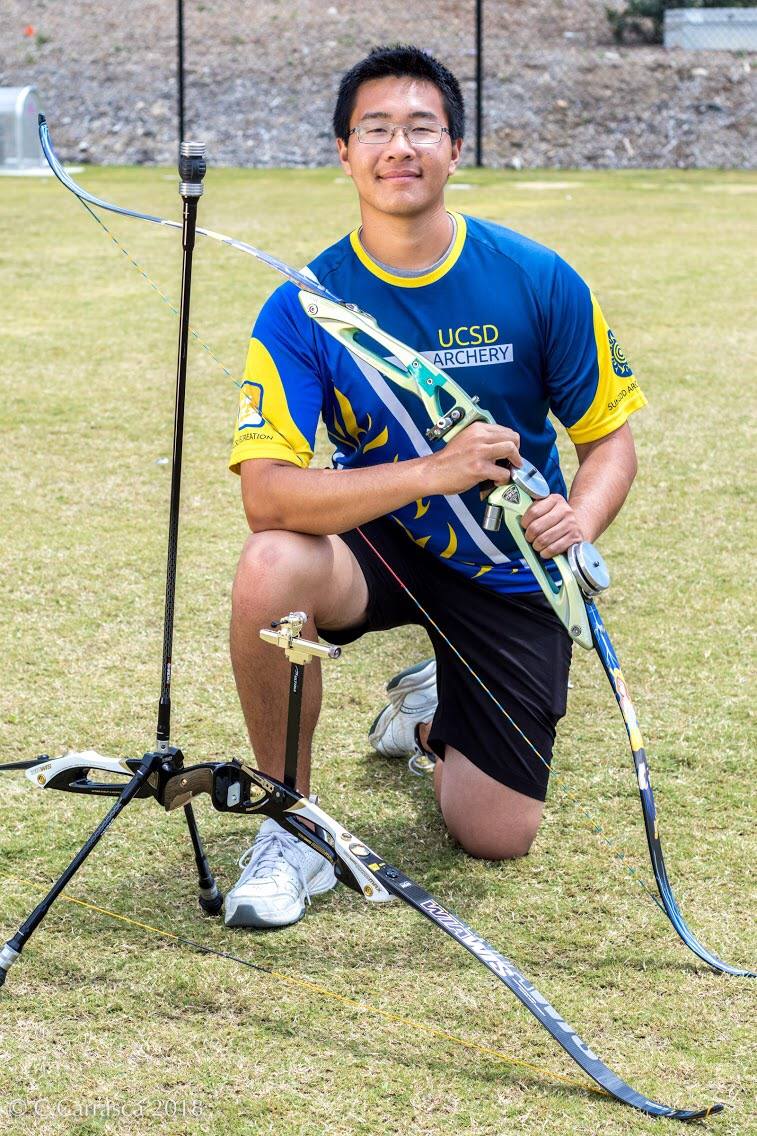 Electrical Engineering
Warren College
Senior Nickname: The G.O.A.T of Barebow
Awards
2015-2016 Vice President
2016-2018 Equipment Manager
2017-2018 Webmaster
2015 National Indoor Championship Barebow Collegiate Male Qualification Gold
2015 Western Regional Male Barebow Gold
2015 National Collegiate Barebow Champion
2015 Male Barebow All West
2015 Male Barebow All American
2016 Western Regional Male Barebow Gold
2016 Western Regional Male Barebow Team Gold
2017 National Male Barebow Team Bronze
2017 National Mixed Barebow Team Bronze
2018 SoCal Collegiate Indoor Recurve Mixed Team Bronze
2018 National Indoor Championship Barebow Collegiate Male Qualification Gold
2018 Western Regional Recurve Mixed Team Champion
2018 National Mixed Barebow Team Bronze
2018 National Male Barebow Team Champion
2018 National Collegiate Barebow Champion
Spotlight
Kelton initially didn't have archery on his list of interests upon entering UCSD, and it wasn't until the summer after his first year that he decided to enroll in an archery rec class - partly because he always thought archery looked cool in the movies and partly because of his pestering brother. Kelton was finally introduced to SGA after running into Robert Nicholes during a CHEM 6C fire drill; they bonded over their arm guard tans, Kelton joined SGA, and he would go on to achieve the club's first national title.

Out of all the competitions that he has attended, Kelton's favorite was his second outdoor tournament NOCC 2015 in Virginia. It was his first time traveling with team members, and he was drawn in by the great sense of community and sportsmanship between all the colleges. He distinctly remembered cheering "Barebow best bow!" alongside fellow barebow archers after the first 36 arrows of day two. The surprise and confusion of fellow compound archers was a humorous touch to the memory, and Kelton also fondly recalled synchronizing shots with the other barebows on day one. It was here that he achieved the club's first national title: 2015 Barebow National Champion. It was a moment that Kelton and plenty of other archers were not going to forget.

Regarding memorable moments, Kelton's most defining memory of archery was his Recurve Mixed Team gold medal match with Kaitlyn Huang at WROCC 2018. This was his first time shooting recurve in the outdoor season, and he had been practicing tirelessly for almost an entire year to prepare. He stated, "This was the only chance that I had to shoot mixed teams with Kaitlyn, and I aimed for nothing less than a gold with her." When the time came, Kelton delivered as promised and worked with Kaitlyn up to the gold medal match. They came out with the win in the end, proving to Kelton that all his hard work had not been in vain. He set a goal for himself and saw it through to the end in that good old fashioned Kelton way.

The SGA community would always remain a strong favorite of Kelton's as well. He was able to challenge himself while still being able to form meaningful relationships with fellow members. Kelton provided one solid piece of advice for all incoming shooters: enjoy yourself, and don't focus too much on individual performance in relation to others. He definitely embodied this mindset and always stayed true to his shot process and goals, in and outside of competition.

After he graduates, Kelton plans on pursuing a career in information technology and is currently starting off in the health insurance field.

We wish the best of luck to Kelton and hope he continues to grace us with his charming presence at the field. His comedic personality and mind-blowing skills are out of this world, and we are very grateful for the privilege of getting to know him over the past few years. Congratulations on graduating!