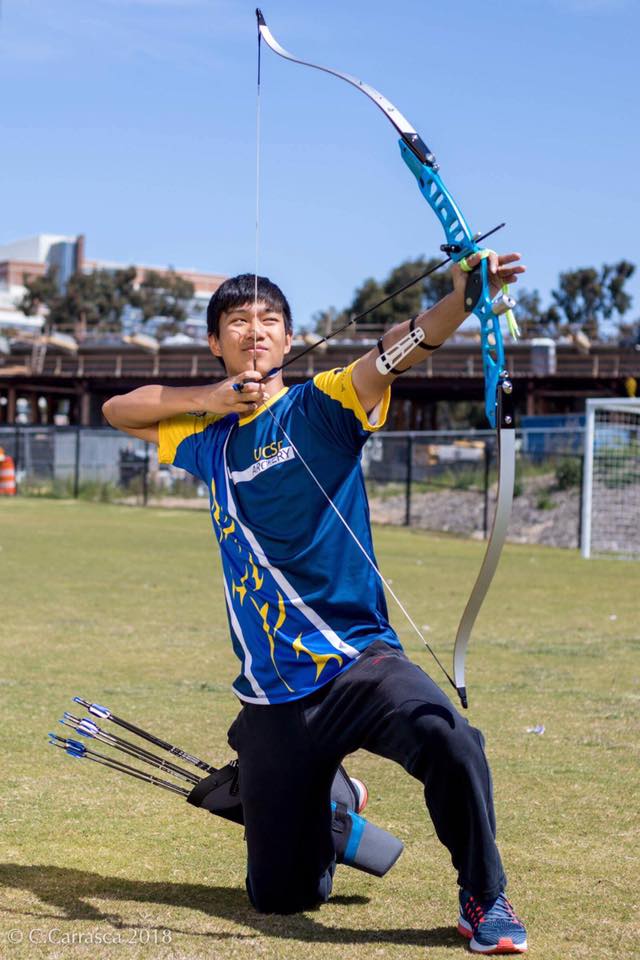 Chemical Engineering
Sixth College
Senior Nickname: Wenpai the Gu-fy Goober
Awards
USA Archery Level 3 NTS Coach
2018 National Outdoor Collegiate Championship Men's Barebow Individuals - Silver
2018 National Outdoor Collegiate Championship Men's Barebow Team - Gold
2018 All-American Male Barebow
2018 Western Regionals Men's Barebow Individuals - Silver
2018 Western Regionals Men's Barebow Mixed Team - Gold
2018 All-West Male Barebow
2018 National Indoors Men's Barebow Individuals - Silver
2017 National Outdoor Collegiate Championship Men's Barebow Individuals - Silver
2017 National Outdoor Collegiate Championship Men's Barebow Team - Bronze
2017 Western Regionals Men's Barebow Individuals - Silver
2017 Western Regionals Men's Barebow Team - Silver
Spotlight
Long before he began his career at UCSD and joined SGA, Wen was an archer at heart. He was an avid video gamer and played as the archer whenever possible. When he got to campus in 2014 and walked down library walk during welcome week, a match was made in heaven. He saw someone holding a bow and walked over immediately.The club was SGA and the rest was history!

After starting off as a recreational shooter, Wen transitioned to the competitive team in his second year through which he has found great success as a barebow shooter and has created lasting memories at the tournaments he has attended. His favorite tournament to attend has been Western Regionals because this is where everyone shoots outdoor for the first time. It also gives him the opportunity to see familiar faces such as friends from the other UC's. However, his fondest archery memory has to have been the time he and some team members were coming back from state indoors. Hurtling down the road at 80 mph, he and five other teammates played Love Letter in the back of the car and had the time of their lives.

Wen's favorite part about being in SGA is archery itself and his love of the sport. It drives him to succeed both in the sport and outside it. As both a coach and an archer, Wen advises new shooters to "just enjoy the sport. Have fun!"

After he graduates, Wen hopes to find an engineering job. We at SGA know he will succeed at whatever he endeavors and wish him luck in all that the future has to offer! We hope he comes around to the range whenever he can because his fun loving presence will be missed. Congratulations on graduating Wen!